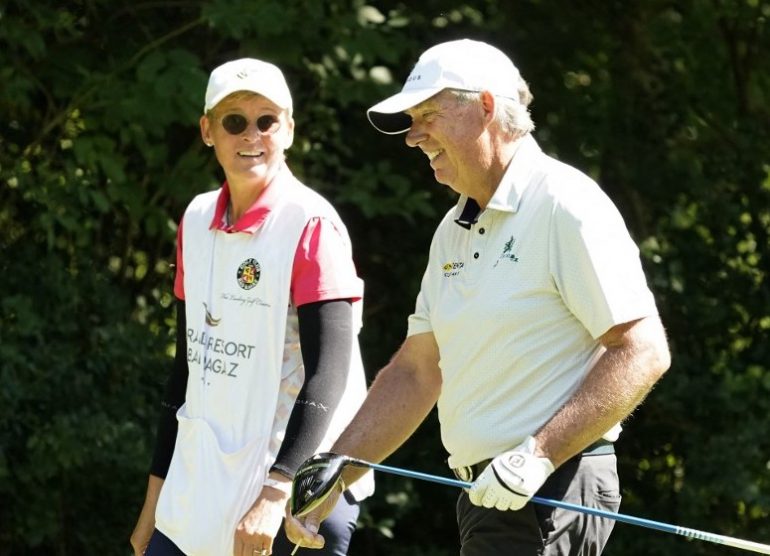 BAD RAGAZ, SWITZERLAND – JULY 09: Barry Lane from the UK at work during the Second Day of the Swiss Seniors Open on July 09, 2022 at Golf Club Bad Ragaz in Bad Ragaz, Switzerland. (Photo by Phil Inglis/Getty Images) (Photo by Phil Inglis / GETTY IMAGES EUROPE / Getty Images via AFP)
The English player, who is very close to the French clan, died at the age of 62 shortly before midnight on Saturday evening.
Barry Lane has won five DP World Tour victories: the first at the Gleneagles at the Scottish Open in 1998 and the last at the British Masters at the Forest of Arden in 2004.
Barry Lane played on the European Tour for 26 consecutive years from 1986 to 2011 and represented Europe in the Ryder Cup in 1993 when the Americans won 15-13 at The Belfry.
Since 2010, he has played in the European Senior Tour, which he won 8 times. He had recently taken a stand against Ian Poulter, whom he accused of wanting. "kill" It cycles history by promoting LIV.
Last appearance in Mauritius
Last December, after the final tournament of the season at Constance Belle Mare, she traveled to Mauritius with partner Camilla to present the Barry Lane Rookie of the Year award on the Senior Tour.
It's great to be in Mauritius to present The Barry Lane Rookie of the Year award. And to see all my friends. pic.twitter.com/quvsMO9xyT

— Barry Lane (@BazLane) 11 December 2022
Since his death was announced, praise has been pouring in on social networks. Paul McGinley, Thomas Björn, Colin Montgomerie, Ian Woosnam, Nick Faldo, Tony Jacklin, John Daly and others have posted messages that speak of his kindness, gentleness or the rhythm of his beat.
RIP barry – the sweetest guy till the end and coming all the way to Mauritius a few weeks ago to say goodbye to the entire Tour family despite being very sick says a lot for his courage and the close kinship and friendships we all formed on Tour 💔🥲

— Paul McGinley (@mcginleygolf) January 1, 2023
Very good memories..
We die today, losing a great friend.
RIP Base https://t.co/1aM2M8sf29

— Thomas Bjorn (@thomasbjorngolf) January 1, 2023
Barry Lane was one man's prince. It will be summarized.

— Tony Jacklin CBE (@jacklin_tony) January 1, 2023
Very, very sad news about the death of a colleague and good friend, Barry Lane. My thoughts are with Camilla and her family.

— Colin Montgomerie (@montgomeriefdn) January 1, 2023
What an absolute true champion and the best guys in every way!! He always opened up to me and became a close friend! I'll miss you Baz .. gone too soon! Rest easy my friend 🕊 https://t.co/QKs5AAHsrf

—John Daly (@PGA_JohnDaly) January 1, 2023