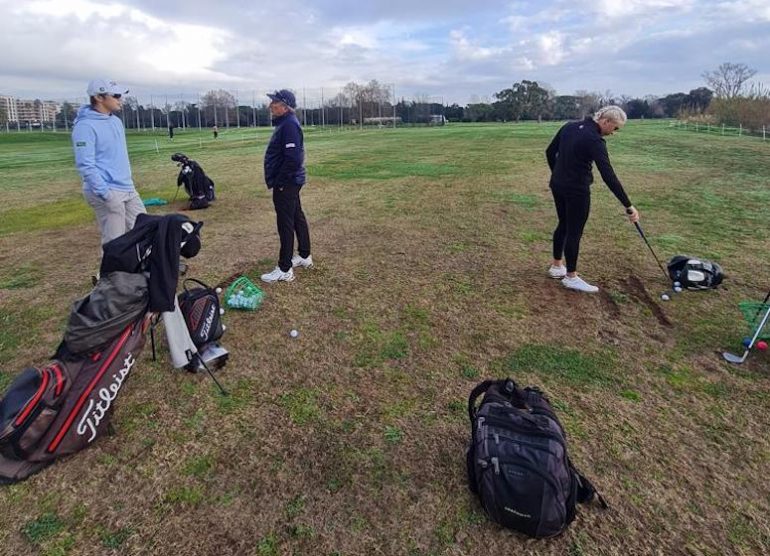 Alain Alberti with Jeong Weon Ko and Pauline Roussin-Bouchard at Mandelieu ©Fabien Pigalle
Returning from Florida, coach of Alexander Levy and Pauline Roussin-Bouchard, as well as Jeong Weon Ko, Alain Alberti gave us an interview to tell us about their two most important champions. Alex is back in Abu Dhabi on Sunday after 11 months on the sidelines for a double herniated disc as Pauline prepares to kick off her second LPGA season!
Interview with François Scimeca
Hello Alain, you have just returned from your Florida accommodation with Pauline Roussin-Bouchard to prepare for the season. Did everything go well?
Yes definitely. It was planned for a long time. We did a training camp in Orlando with physical coach David Baudrier. Pauline is now staying in the United States because she will not be returning to the LPGA before the tournament (LPGA Drive On Championship) in Arizona at the end of March.
However, she will play in two LET tournaments first: the International Saudi Ladies in Saudi Arabia featuring the best players in the world, followed by the Aramco Series in Singapore.
The goal is to make it to the LPGA final at the end of the year and put yourself in a position to win once or twice.
After the first season of learning, we can assume that the goals are different this year…
Absolutely. He won't be a rookie anymore in the LPGA this year: he knows the requirements, the rivals, most of the tracks… And he knows how the slightly longer tournament streaks go. At the university, he played four tournaments in three months, in the fall and in the spring. There he will play six or seven tournaments in a row. He learned how to manage training, fatigue, recovery.
The goal is to get to the LPGA final at the end of the year and put yourself in a position to win once or twice. But also thinking about the map, advancing in the world rankings: this is the most important goal.
What did you focus on in the off-season?
We looked at the statistics and trained accordingly. These are mainly adjustments to the fact that the courses are 6,400 yards, the par 5s being difficult to hit in two. He chocked in the second hit with his strength in college… The situation is less in long courses today. As for Stroke Gain, here we see it lagging behind the best.
The Greens are taking but losing shots at the middle anchors compared to the players' court, especially compared to the closeness of the flag. You should be closer to the hole and give yourself the opportunity to score low. Because in LPGA it's hard to win now if you don't do a very low round during the week!
There were also student changes during the season. Where in this area?
Pauline masters much more; She is breaking up with an English student this year, whereas last year there were a few she. After stopping with Sébastien (Clément), he had chosen an Argentinian and then a German with an injured player, but this time he was unavailable as he continued the circuit…
She goes there with her boyfriend, who is also a professional student, for two LET tournaments. It helps a good Thai player who is just behind Pauline in the standings this year. That's how it was planned.
Beyond the commitment, it's a move that needs more development so that Alex doesn't go back any less with her enlarged waist where her hernia was.
Regarding Alex Levy, you can let us know your feelings about his return to circuit. You've seen a lot of each other lately, can you guess?
Alex was on the Côte d'Azur, Pauline Var, and instead of bringing them to Massane, I joined them for two days in Mandelieu, in an area reserved for good players. We met three or four times in Mandelieu or Massane… But we kept it light.
When you have a herniated disc and are recovering, you should choose your rhythm by trying to do a swing that protects your back! He was in Abu Dhabi with his osteoster (François Teissedre D'Alou) and had no trouble with his back.
But after the first two rounds where he played very well, mental and physical stamina also comes into play. As in football or rugby, when you haven't played in competitions for 11 months. It's no surprise that this weekend's game has more challenges, lacking gameplay and competition. This is normal.
Does your injury force you to reconsider the way you swing? We know that dedication is an actor. Will it have to change?
Trying to fix his herniated disc will prevent him from self-harming, so this is a very virtuous act.
I made sure you didn't give 200% of it for nothing. There's no point in making such a 6 iron hit to gain three yards.
In the drive, it's a little different when you want to put a "large" one.
Beyond the commitment, I can say that Alex needed more movement improvement to have less backing with his hollow waist where the hernia was. This area should be compressed less. Therefore, it is François who is working on this with his physical trainer.
Photo by Fabien Pigalle